RISK! is a live show and weekly podcast where people tell true stories they never thought they'd dare to share in public, created and hosted by Kevin Allison (MTV, Comedy Central, HBO, Netflix). RISK! live shows take place monthly in NYC, Los Angeles and online and tour periodically around the USA, Canada and in the UK. Meanwhile, the RISK! podcast gets over a million downloads each month. Slate.com called it "jaw-dropping, hysterically funny, and just plain touching."
Read What Fans Say About RISK!
Read What the Press Says About RISK!
New To RISK!?
If you're new to RISK! you can subscribe to our podcast on Apple, Spotify, Stitcher, really anywhere you find podcasts. Or get it right here on our site, straight from the source:
But a great place to start might be with our "Best of RISK!" episodes:
Or for a touch of star-power, maybe start with these exclusive stories from the likes of Sarah Silverman, Kevin Nealon, Marc Maron, Lisa Lampanelli, Samantha Bee, and more!
A Few of Our Favorite Stories
A.D Mile's "The Deuce" from Blindsided

Giulia Rozzi's "The Grind" from Obsessions

Lee Harrington's "The Other Side of the Story" from In My Own Skin

Elna Baker's "Like a Virgin" from Faked

Chris Ryan's "Outside the Comfort Zone" from The Sweet Hereafter

The RISK! Team
Making RISK! happen—the podcast, the live shows, the website, the works!—takes a lot of work. Here are some of the folks who make it happen.
Kevin Allison
Creator, Host
Kevin created RISK! and The Story Studio and has worked on TV, the stage, and in print as an actor, writer, and solo performer. He continues to perform, write, and teach storytelling internationally. kevinallison.com
Hope Brush
Audio Editor
Hope is an engineer, musician, and podcast nerd based out of LA. What began with binge-listening to RISK! eventually led her to becoming a part of the team that makes it all happen. When she's not working on podcasts, she can usually be found working with bands, artists, and on various other musical endeavors! hope-brush.com
JC Cassis
Producer, Business Manager
In 2011, JC joined the RISK! team to help Kevin organize the show into the self-sustaining small business it is today. She is also an independent singer, songwriter and producer of pop music. jccassis.com
David Crabb
Story Producer
David is a writer, performer, and the creator of Bad Kid. He's been coaching RISK! tellers for 10+ years and hosts our LA live shows. Elsewise, you can find him wearing assorted wigs at The Groundlings Sunday Company. davidcrabb.net
Taj Easton
Audio Editor
Taj is a spirited, mushy lad with a heart of gold, bringing a sympathetic edge to an otherwise talented team of charming and impressive individuals. When he's not busy doing push-ups and nailing donuts, he can be found drooling on his keyboard. tajeaston.com
Cyndi Freeman
Casting Director, Story Producer
Cyndi is an award-winning storyteller and coach who's worked with high profile organizations of all stripes. She believes every life is an astonishing experience, and storytelling brings us into the conversation about what it is to be human. cyndifreemanstoryteller.com
John LaSala
Audio Editor, Producer, Project Manager
Since 2016, John has been editing audio, sound designing, composing music, increasingly producing stories, and helping streamline operations behind the scenes at RISK! Elsewhere he is a composer and theatrical sound designer, off-Broadway and beyond! lasalamander.com
Brad Lawrence
Casting Director, Story Producer, Social Media Manager
When Brad is not casting, producing, or managing for RISK!, he is a teacher, solo show performer, writer, and the man behind the science fiction audiobook-as-podcast, Maxine and The Planets Unknown, available everywhere you get podcasts. bradlawrencestoryteller.com
Michelle Walson
Story Producer
Michelle Walson has been called the story whisperer for her ability to help performers dig deep and tell the best version of their stories. She is also a filmmaker developing her first feature film and a mom developing her first human. michellewalson.com
Kevin Allison and RISK!'s Origin Story
Kevin Allison started his comedy career as an actor and writer on the legendary sketch series The State on MTV, but in 2009, everything changed. "I was doing a solo show out West, playing characters as usual," he says. "Afterward, Michael Ian Black [also of The State] said, 'I kept hoping you'd drop the act and tell some of your own stories.' I said, 'Yikes, that just seems so risky….' But even as I said it, I could feel in my gut that that kind of risk could lead to the best stuff."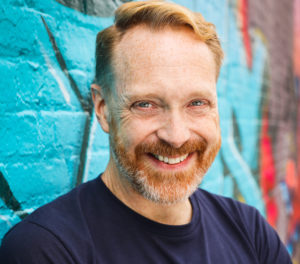 The very next week, Kevin was on stage telling his own stories. "Suddenly, I was looking right into the eyes of audience members. We were reacting to each other, like friends. After the show, people didn't just say, 'That was funny,' they said, 'Thank you. That really got to me.' I was finding the meaning in my own experiences and the people listening felt like they'd lived through these things with me. The more I worried I was taking a risk with a story – because it was too emotional, too provocative, or just too nuts – the more the audience lit up."
In August of 2009, Kevin and producer Michelle Walson started the live true storytelling show, RISK! It was an instant hit. Stories ran the gamut from the sacred to the profane, the hilarious to the horrific – and for the audience, it was a chance to reconnect with the things that make us human. The monthly RISK! live show, winner of an ECNY Award for Best Variety Show, happens in New York and Los Angeles, and RISK! also tours to sold out crowds in the USA, Canada and UK.
Many remarkable people have shown a side of themselves on RISK! that you probably haven't seen elsewhere, like Trevor Noah, Samantha Bee, Bowen Yang, Aisha Tyler, Michael Ian Black, Janeane Garofalo, Kevin Nealon, Marc Maron, Sarah Silverman and more.
The audio podcast of RISK! premiered online in October of 2009. The podcast includes not just the best stories from the live shows but also "radio-style" stories and interstitial music and comedy from artists all over the world. The podcast is available on Apple Podcasts, Spotify and wherever you get podcasts. With new episodes released each Monday and classic stories released each Thursday, the RISK! podcast is the winner of an ECNY Award for Best Podcast, and has been downloaded tens of millions of times.
Over time, the RISK! team has expanded to include audio editors, story coaches, casting directors, a business manager and more. You can learn more about our team above in The RISK! Team section.
RISK! is a labor of love that has survived independently for over a decade and helped many thousands of listeners to become more empathetic and understanding people. If you're ready to hear the unvarnished truth from people from around the globe, then take the advice Kevin gives at the end of each episode of RISK! "Folks, today's the day. Take a risk!"