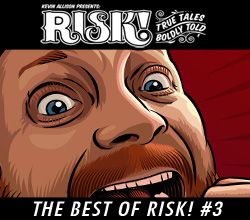 Song: RISK! Theme by Wormburner and John Sondericker
Song: Cheese Steak by Raleigh Moncrief
Live Story: Dog Day AfterAAAAAGGGHHHH!!! by Ken Reid
Song: Excerpt from Mangled Meditations #23 by Jeff Barr
Radio Story: The Fat Lady Sings by Mollena Williams
Song: On My Way by Ivan and Alyosha
A Look Back: Excerpts from Our Favorite Long Stories. 
Live Story: Coming Home by Christine
Song: L'Accident Heureux by Tristeza
Radio Story: Going Down by Eric Martin
Song: Miracle by Ghost Beach
Live Story: Five Hundred by Sean Patton
Song: Girl by The View
Wanna hear more of our favorites? Check out The Best of RISK! #1, #2, #4, #5, #6, #7, #8, #9, #10, #11, #12, #13, #14, #15, #16, #17, #18, #19, #20, #21, and #22!

Buy the RISK! book now wherever books are sold, or at TheRISKbook.com. The RISK! book features 37 of the best stories that have been on the RISK! podcast and brand new stories as well. RISK! book storytellers include Kevin Allison, Michael Ian Black, Marc Maron, TS Madison, Aisha Tyler, Jesse Thorn, Dan Savage, Paul F. Tompkins, Mollena Williams-Haas, Ray Christian and more! Learn more at TheRISKbook.com.