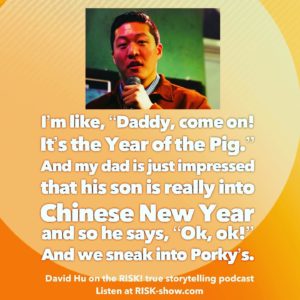 This story was told by David Hu on episode #1224: Some Kinda Love
Synopsis
Note: These summaries are designed to help fans find their favorite stories and may contain spoilers!
At 7, David goes to the movies with his dad. They see Porkies, since older boys say it has "asses and titties" but neither David nor his Chinese dad know those words.
Themes/Keywords: anecdote, John LaSala
---
Help out the show by submitting a synopsis, correction or keywordleaving a reply.
Submit a Synopsis, Correction and/or Keyword