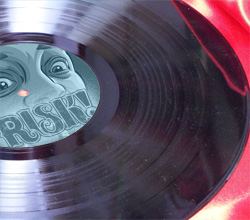 Pelican – The Maccabees
In a Dream – Skybox
Have I The Right – Vampire Weekend
Three Legged Dog – Firewater
All The Girls – Caracol
Sexual High – Go Home Productions
Are You Ready – Fatty Gets A Stylist
Smells Like Rockin' Robin – Go Home Productions
Magic Show – Electric Owls
Bloom – Pogo
Something More – Nina Yasmineh
Voodoo Lady – Ween
Butterflies – David Garza
The Brits are Playing at my House – dj FAROFF
Upon This Tidal Wave of Young Blood – Clap Your Hands and Say Yeah
Do Your Thing to the Music – Lenlow
Riverside – Agnes Obel
Low Rising – The Swell Season
I'll Take a Risk – Beautiful Vision
Need  more music?
Check out The Best of RISK! Music #1, #3, #4, #5, #6, #7, #8, #9, #10, #11, #12, #14, #15, #16, and #17!

Also, all songs featured in the Best of RISK! Music episodes can also be found on Spotify by clicking HERE
Buy the RISK! book now wherever books are sold, or at TheRISKbook.com. The RISK! book features 37 of the best stories that have been on the RISK! podcast and brand new stories as well. RISK! book storytellers include Kevin Allison, Michael Ian Black, Marc Maron, TS Madison, Aisha Tyler, Jesse Thorn, Dan Savage, Paul F. Tompkins, Mollena Williams-Haas, Ray Christian and more! Learn more at TheRISKbook.com.