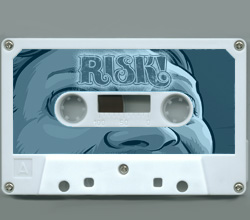 RISK! Theme by Wormburner and John Sondericker
Myth by Beach House
Pioneers by The Lighthouse and the Whaler
Waves by Blondfire
North Side Gal by JD McPherson
Hungover Boxing Day by The Gasoline Brothers
Dog Physics by Ings
Independence Day by Persephone's Bees
Hostages by AC Newman
It's Alright, It's Okay by Primal Scream
Red Tuxedo by The Griswolds
Spiritus by Lisa Mitchell
Cherry Lips by Loon Lake
Proceed to Memory by Pinback
Beach House by Disaster of the Universe
Wild Country by Wake! Owl
Sky on Fire by Handsome Poets
Hero by Family of the Year
On My Way by Ivan & Alyosha
Touch by Battleme
Young by Air Review
You're Too Weird by Fruit Bats
Need more music?
Check out The Best of RISK! Music #1, #2, #3, #5, #6, #7, #8, #9, #10,#11, #12, #14, #15, #16, and #17!

Also, all songs featured in the Best of RISK! Music episodes can also be found on Spotify by clicking HERE
Buy the RISK! book now wherever books are sold, or at TheRISKbook.com. The RISK! book features 37 of the best stories that have been on the RISK! podcast and brand new stories as well. RISK! book storytellers include Kevin Allison, Michael Ian Black, Marc Maron, TS Madison, Aisha Tyler, Jesse Thorn, Dan Savage, Paul F. Tompkins, Mollena Williams-Haas, Ray Christian and more! Learn more at TheRISKbook.com.