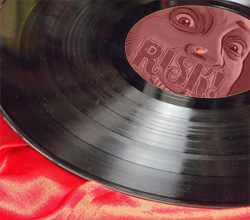 Living In A Movie – Julie Peel
Kill It – The Cinema
Mixed Farm – Overdub
Default – Django Django
In Bloom – Butch Walker & The Black Widows
Catastrophe! – Julia Stone
Sydney (I'll Come Running) – Brett Dennen
The Sweetest Thing – Camera Obscura
Lives of Strangers – Friday Mile
Love It All – John Morillion
Dream On – Noel Gallagher
City Grammar – The Freelance Hellraiser
Things U Did – Love Lake
Dreamer – Elizaveta
The Things That Matter Most – The Silent Partner
Shake It Out – Florence And The Machine
Merrymake It With Me – The Republic Tigers
Different – Ximena Sarinana
When We First Met – Hellogoodbye
This Phantom Life – The Leisure Society
Need  more music?
Check out The Best of RISK! Music #2, #3, #4, #5, #6, #7, #8, #9, #10, #11, #12, #14, #15, #16, and #17!

Also, all songs featured in the Best of RISK! Music episodes can also be found on Spotify by clicking HERE
Buy the RISK! book now wherever books are sold, or at TheRISKbook.com. The RISK! book features 37 of the best stories that have been on the RISK! podcast and brand new stories as well. RISK! book storytellers include Kevin Allison, Michael Ian Black, Marc Maron, TS Madison, Aisha Tyler, Jesse Thorn, Dan Savage, Paul F. Tompkins, Mollena Williams-Haas, Ray Christian and more! Learn more at TheRISKbook.com.