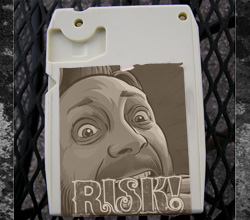 Risk-1 by Morningbell
Worry Is A Wasteland by Jules Larson + AG
High School Lover by Cayucas
Way Down in the Hole by The Blind Boys of Alabama
Baby by Ariel Pink
Maybe on Monday by Calexico
Breakers by Local Natives
My Neck, My Back (Live) by Elle King
Dangerous by Big Data
The Lonely Dreamer by Matt Sucich
Kiss Me I'm Drunk by Valley Lodge
The Heart by Boombox Seance
LA Calling by Crystal Fighters
Loving You by Matt Costa
Circles by Mike Doughty
A Change of Heart by El Perro del Mar
Goodbye by Patty Griffin
Foreign Bodies by Radiation City
Ahead of My Time by Teddybears
Somehow (It'll All Work Out) by Liam Howard
Dream the Dare by Pure Bathing Culture
Need more music?
Check out The Best of RISK! Music #1, #2, #3, #4, #5, #7, #8, #9, #10, #11, #12, #14, #15, #16, and #17!

Also, all songs featured in the Best of RISK! Music episodes can also be found on Spotify by clicking HERE
Buy the RISK! book now wherever books are sold, or at TheRISKbook.com. The RISK! book features 37 of the best stories that have been on the RISK! podcast and brand new stories as well. RISK! book storytellers include Kevin Allison, Michael Ian Black, Marc Maron, TS Madison, Aisha Tyler, Jesse Thorn, Dan Savage, Paul F. Tompkins, Mollena Williams-Haas, Ray Christian and more! Learn more at TheRISKbook.com.