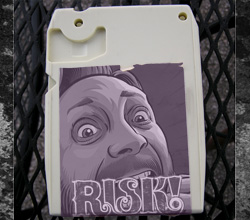 Animalrisk by Dan Rosen
Trouble by Battleme
Colours in the Sky by Miami Horror
Gotta Get You by Baywood
Fever by The Black Keys
Wanna Feel It by The Olms
Lady Luck by Pickwick
High School by Jeremy Fisher
True by Operators
Teach Me to Know by The Lone Bellow
Exodus of the Year by Royal Canoe
Tears of Joy by Slow Club
Ahead of the Curve by Monsters of Folk
Cassy O' by George Ezra
Let Me In by Grouplove
French Navy by Camera Obscura
Hot Tonight by Tokyo Police Club
Start Again by Bishop Allen
Rescue Song by Mr Little Jeans
Espeon by Phox
Good Answer by We Are Scientists
Satellite Call by Sara Bareilles
Need more music?
Check out The Best of RISK! Music #1, #2, #3, #4, #5, #6, #8, #9, #10, #11, #12, #14, #15, #16, and #17!

Also, all songs featured in the Best of RISK! Music episodes can also be found on Spotify by clicking HERE
Buy the RISK! book now wherever books are sold, or at TheRISKbook.com. The RISK! book features 37 of the best stories that have been on the RISK! podcast and brand new stories as well. RISK! book storytellers include Kevin Allison, Michael Ian Black, Marc Maron, TS Madison, Aisha Tyler, Jesse Thorn, Dan Savage, Paul F. Tompkins, Mollena Williams-Haas, Ray Christian and more! Learn more at TheRISKbook.com.